Helios Series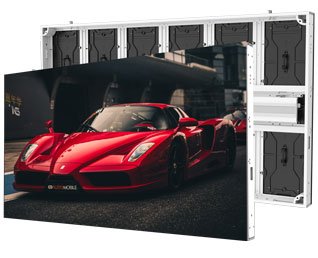 Product Details:
Brand:

266×450mm

Serial Number:

37kg/pcs

Country of Origin:

10mm

Certificate:

8000-9000nits
Payment & Shipping Terms:
Contact Us
16:9 Cabinet
Unique screen ratio of outdoor LED screen in the industry point-to-point displays 2k/4k image.
High brightness & high refresh rate
With a brightness of 9000nits and a refresh rate of 3840Hz,readable under the sunshine.
Ultra-light & Ultra-thin
Aluminum cabinet. With a weight of 27kg/㎡, the nsalltion speed improves by 20%, lower transportation costs.
IP65 rating of protection
Separate waterproof modules, suitable for various outdoor environments,safe use.
SPECS--Helios Series
Item

Helios10
Pixel Pitch (mm)
10
Weight(kg/pcs)
37
Panel Size (mm)
266(W)×450(H)
*Notes: Specifications are slightly different according to different configurations. Please contact our salesperson for details. All rights are reserved to LianTronics.
Related Products:
Get in Touch with us
Still have Questions
Our Headquarters
Work Time :
0-0(Beijing time)
FAX :
86-755-29746802
Business Phone :
86-755-23001729(Working time)
Email :
[email protected]
Factory Address :
East 1st Road, West Technology Park, Daya Bay Economic Development Zone, Huizhou, China