Indoor Rental LED Display of RM Series
Key Features:
Pixel Pitch:

3.9mm

Panel Size:

500x100mm

Weight:

12kg/pcs

Brightness:

≥1000nits

Service Access:

Front/Rear

Panel Material:

Die-casting Aluminum
Product Description:
Contact Us
Super Cool Spider-inspired Appearance
Stretching out as spiders, RM series features spider-sense agility and spider-web endurance to establish a super cool stage as you want.

Lightweight Modularization Design Keeps Your Cost Down
Through modularization design, the modules, frames and control boxes of RM cabinets can be universally applied to any RM products in different pixel pitches to lower down your cost. Single cabinet weighs only 12.5kg (25kg/m²), which is 20% lighter than conventional ones and operational for a single worker, saving your cost on transportation and installation on the other hand.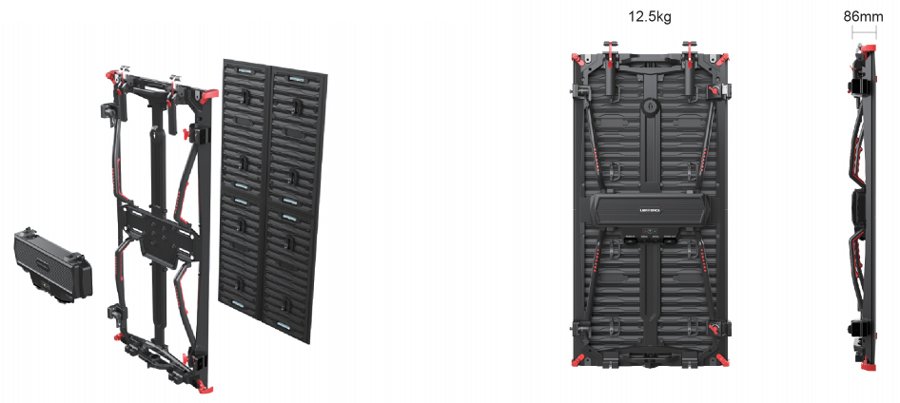 High-precision Guarantee
High-precision die-casting structure guarantees excellent flatness of module and cabinet splicing. The brand-new integrated arc lock structure is more accurate and easier to use than the separated one.

Perfect Right-angle
The cabinet frame and the module bottom shell are designed with a 45-degree beveled edge, which can achieve seamless splicing at a perfect right-angle.

Higher Flexibility, Greater Creativity
500*1000 mm and 500*500mm (half -sized) cabinets are deliverable and can be mixed up in connection. Thanks to the special design, RM series enables to realize various splicing shapes such as 5 or 10 degrees concave & convex splicing, L-shape or half-cabinet dislocation.

Super Safe with Multiple Protections
Special protective corner is customized to greatly improve the anti-collision capability of RM cabinets and reduce the cost of maintenance. The novel and strong hanging fast-lock ensures the absolute safety of usage and it is easy to install or disassemble in stacking or hanging installation even for a single person.
Rapid Maintenance
RM modules adopt magnetic front-accessible maintenance. It takes only 10 seconds to replace the module and 15 seconds for control box replacement.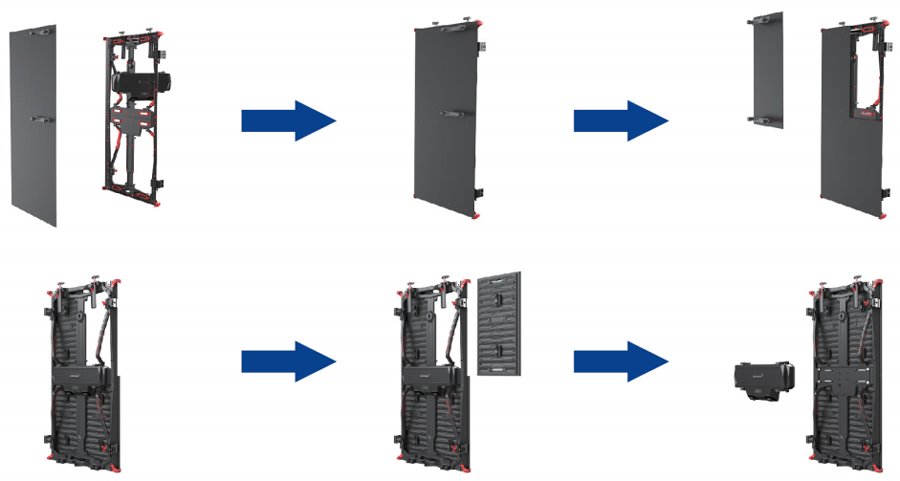 SPECS--RM Series Indoor Rental LED Display
Item

RM3

Pixel Pitch (mm)
3.9
Pixel Density (pixels/㎡)
65536
Panel Dimension (mm)
500(W) × 1000(H) × 86(D)
Panel Dimension (inch)
19.68(W) × 39.37(H) × 3.38(D)
Panel Material
Die - casting aluminum
Weight (kg/pcs)
12.5
Brightness (nits)
≥1000
*Avg. Power Consumption (W/㎡)
170
*Max. Power Consumption (W/㎡)
680
*Notes: Specifications are slightly different according to different configurations. Please contact our salesperson for details. All rights are reserved to LianTronics.
Related Products:
Get in Touch with us
Still have Questions
Our Headquarters
Headquarter Address:
Liantronics Bldg.,Antongda Industrial Zone,3rd Liuxian Rd,68 Block Baoan, Shenzhen, China Factory Address:
East 1st Road, West Technology Park, Daya Bay Economic Development Zone, Huizhou, China US Subsidiary Address:
Liantronics 3140 Polaris Ave, Suite # 21,Las Vegas, NV 89102