Liantronics attended the InfoComm Asia 2008 with high-quality SMD full-color LED Displays
November 19,2008 to 21, InfoComm Asia 2008 was held at the Convention and Exhibition Center in Hong Kong as scheduled. Lots of LED Display manufacturers have attended the exhibition.With its classic elegance booth and several new designed products,Liantronics have attracted many overseas customers to visit our booth.
The purpose of the biennial InfoComm Asia 2008 is providing a trade platform for international suppliers to meet buyers from all of Asia and the emerging markets, while at the same time enabling Asian manufacturers to seek international trade representatives.
In the InfoComm Asia 2008,Liantronics have presented several high-quality and cost-effective LED Displays, such as PH6mm indoor SMD full-color LED display with patent combi-3,PH5.08mm indoor full color display,PH60 LED lighting display, LED Bus display,etc.
Our PH5.08mm indoor full color displays are particularly suitable for retaling in the stage and other rapid-installed projects. Their cabinets are made of aluminum alloy after extruding, so they are lighter, thinner than other cabinet, and they have good resistance to pressure. Besides, their cabinets have unique hanging structures.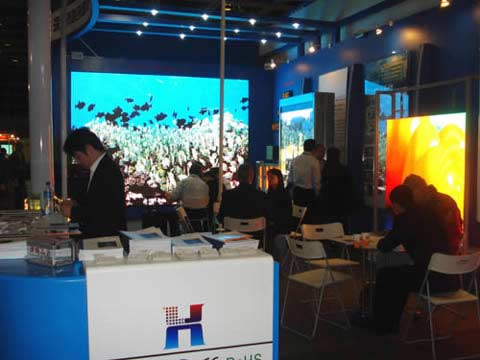 Our booth in the InfoComm Asia 2008
Headquarter Address:
Liantronics Bldg.,Antongda Industrial Zone,3rd Liuxian Rd,68 Block Baoan, Shenzhen, China Factory Address:
East 1st Road, West Technology Park, Daya Bay Economic Development Zone, Huizhou, China US Subsidiary Address:
Liantronics 3140 Polaris Ave, Suite # 21,Las Vegas, NV 89102