Product Category :Rental
Pixel Pitch :PH3.8mm
Display Size :17.86㎡
Installation Date :2016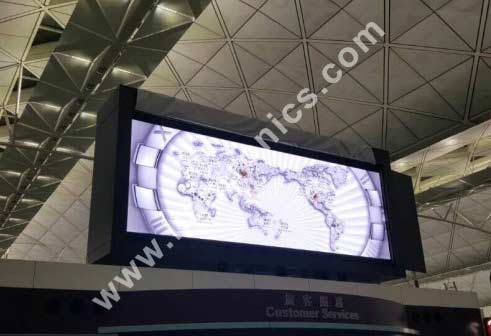 Hong Kong International Airport, covering an area of 1,255 hectares, has been in commercial operation since 1998. It has a total of 90 boarding gates, which is an important regional trans-shipment centre, passenger hub and gateway for destinations in Mainland China and the rest of Asia. The airport is the world's busiest cargo gateway and one of the world's busiest passenger airports.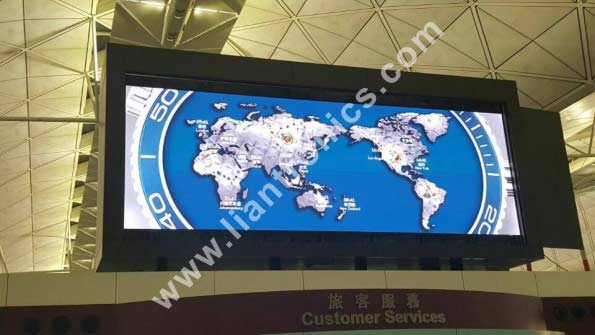 Recently LianTronics classic RC series LED display appears at departure hall of the seventh floor in Hong Kong International Airport. This LED screen, with the pixel pitch of 3.8mm and the size of 17.86㎡, has successfully installed as a remarkable billboard to broadcast commercial advertisements for visitors. Its high-end appearance and high definition image have attracted many potential customers' attention. Simplified structure of RC series makes installation easier and quicker, which can save a lot of time and labor. Moreover, with advantages of seamless matching, lightweight panel and convenient maintenance, the LED display enjoys wide popularity in both domestic and overseas markets. We have confidence that LianTronics products could not only present high quality image, but also share more competitive features which will fulfill your expectations and requirements.
Headquarter Address:
Liantronics Bldg.,Antongda Industrial Zone,3rd Liuxian Rd,68 Block Baoan, Shenzhen, China Factory Address:
East 1st Road, West Technology Park, Daya Bay Economic Development Zone, Huizhou, China US Subsidiary Address:
Liantronics 3140 Polaris Ave, Suite # 21,Las Vegas, NV 89102