LianTronics Profile

Your Trustworthy Display Solution Provider
Shenzhen LianTronics Co., Ltd (stock code: 300269), founded in 2003, is a trustworthy display solution provider specializing in LED application products from developing, manufacturing, sales to service.
Over the past decade, LianTronics has grown into a state-level high-tech enterprise, with 3700+ employees and 200+ national patents.
LianTronics has successfully conducted over 35,000 cases globally, covering critical mission, municipal engineering, commercial property, exhibition hall, public security organs, transportation hub, VR education, broadcasting studios, video conference rooms, advertising media, etc.
At present, LianTronics owns a large manufacturing base located Dayawan Industrial Zone, Huizhou City, China, providing up to 30 million USD annual value of production to meet the needs of customers from all over the world.
Top 3 80000m² 200+ 35,000
Production Capacity Worldwide Manufacturing Base National Patents Successful Cases Worldwide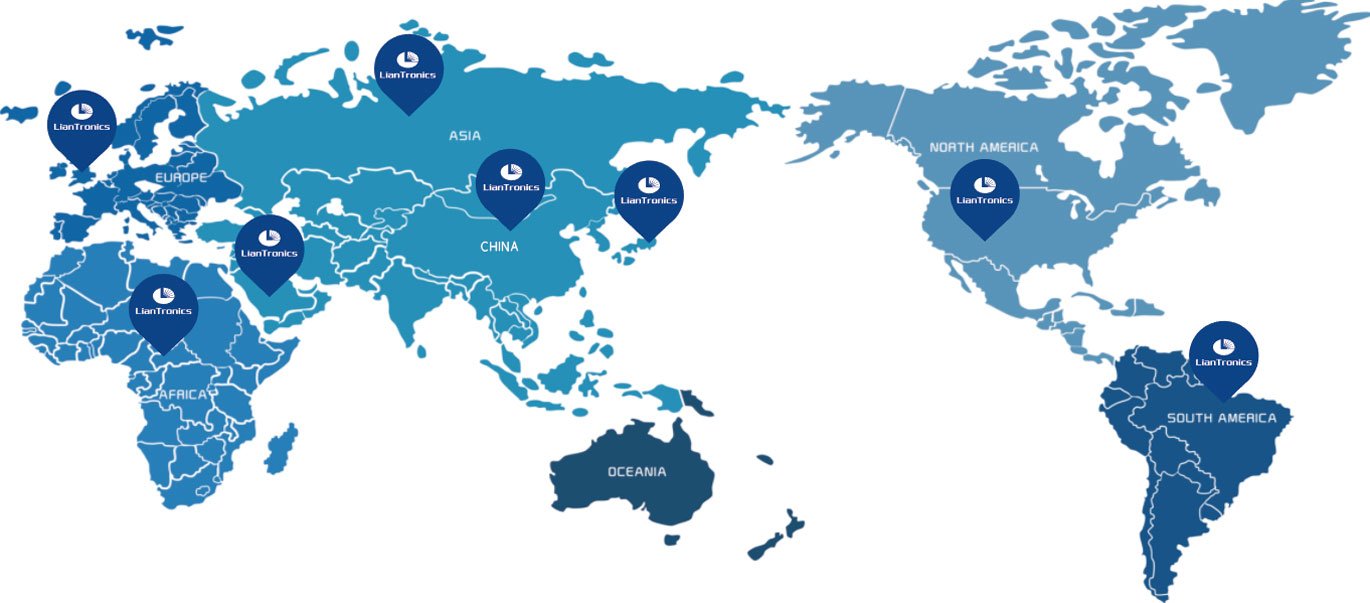 Professional Fast Comprehensive Considerate
Years of LED Industry Experience 5 Customer Service Centers Transnational Operation 100+ Sales Staff & 100+ Service Engineers
View More About LianTronics
our company
2019 LianTronics RE Series New Launch.
2018 LianTronics products for Hongkong-Zhuhai-Macao Bridge.
2017 LianTronics sales of fine-pitch LED display reached 109.5 mllion USD.
2016 LianTronics curved LED screen lighted up Alibaba Showroom for G20.
2015 Fine-pitch LED display became the new product to drive business growth of LianTronics.
2014 LianTronics was selected as the provider of LED screens forBrazil 2014 World Cup.
2013 LianTronics was awarded as the 10th"Famous Brand of Shenzhen"and purchased Esdlumen.
2012 Our 3,000 square meter LED ceiling display is installed in Qin Han Tang Emporium, Xi'an.
2011 Liantronics is listed on the Shenzhen Stock Exchange GEM of China. (stock code :300269)
2010 The 1,200 square meter LED display installed for the Beijing Dinghao building is the first energy-saving LED display that saves more than 1 million kW every year.
2009 The largest curtain LED display in Shenzhen, at 1,002.24 square meters, is installed on the Galaxy Century building.
2008 The largest outdoor full color LED screen in Egypt, made by Liantronics, is installed. At 1,208 square meters large, this display made the list of the Top Seven LED Wonders of the World.
2007 LianTronics begin partnering with Cree LED Chip Manufacturing in Huizhou.
2006 LianTronics launched joint-stock reform.
2004 LianTronics sales volume ranked first in Shenzhen.
2002 We develop our first indoor full-color LED screen by using unique three-to-one SMD technology.
1998 Liantronics is established as an LED manufacturer.
Our Positioning
Your Trustworthy Display Solution Provider.
Our Value
Innovation. Sunshine. Endeavor. Gratitude.
Our Business Model
Product + Service
Our Vision
Display All You Want
1208㎡ outdoor display in New Giza, Egypt, known as LED display wonder, featuring super weather-proof
3000㎡ ceiling display in Xi'an, China, famous for the most pixels, featuring realistic displaying image
2500㎡ elevating curtain display in Hunan, China, featuring wide viewing angle
1200㎡ outdoor display in Beijing, China, featuring energy saving
1500㎡ lighting display in Crown Hotel, Macau
1002㎡ curtain display in Shenzhen, China, featuring high above the ground by 160 meters and all weather proof
Our creative display in Hallelujah Concert Hall in Huanglong Cave, Zhangjiajie, China, is listed in Guinness Book of World Records, famous for its 21 pieces which can be combined for desirable effects or moved separately.
Company Details
Business Type
Manufacturer
Distributor/Wholesaler
Factory Profile
Brands : LianTronics
No. of Employees : 3600~3800
Annual Sales : 200000-300000000
Year Established : 2003
Export p.c : 30% - 40%
Get in Touch with us
Still have Questions
Our Headquarters
Work Time :
0-0(Beijing time)
FAX :
86-755-29746802
Business Phone :
86-755-23001729(Working time)
Email :
[email protected]
Factory Address :
East 1st Road, West Technology Park, Daya Bay Economic Development Zone, Huizhou, China